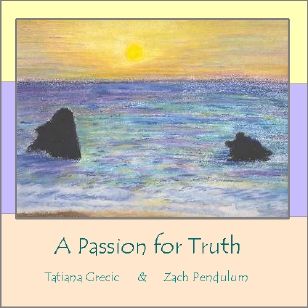 A Passion for Truth
1. Invisible Dream
3. Frame
4. Variations 1 & 2
6. Blue Whale
7. Variations 3 & 4
8. Waiting
9. Variations 5 & 6
10. Crying over a Dream
12. Too You
14. Variation 7
15. Mary go Crazy
16. Variation 8
18. Space Wind
19. Forever Always
20. Variation 9
Soundtrack for 'The Fragile Ancestral Prophecy'

The story is about a Whale and a Dolphin who fall in love
to Create a new Solar System like the one in their Ancestral
Past. The New Humanity gets a second chance upon their
discovery of a special gift from their Ancestral Prophet :
a magical device : a mirror puzzle that the Whale is
compelled (through the tribulation of the age) to assemble.

When put together by the Whale and the Sage Emperor
of the Oceans of the present day, it shows the Young Society
morals of the imaginary stories of their potential futures.